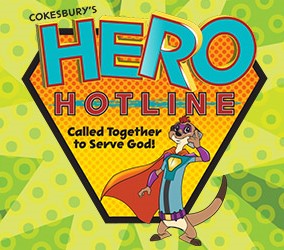 Join us June 19th-22nd for St. Andrew's Hero Hotline Vacation Bible School where kids will learn that we are called together to serve God!
Children who are 4 years old through those who are currently finishing 4th grade are welcome to participate. Older children who have finished 5th grade are welcome to attend as helpers! Kids will meet friends, explore Bible stories, conduct experiments, sing songs, make crafts, play games, enjoy snacks, and experience visits from our local heroes – police, firefighters, ambulance, and trash truck drivers! Cost is $15 per child and must be turned in by May 28th. Enrollment will be on a first come first serve basis as we have limited space for each age group.
Click here to register online! https://standrewslutheran.com/product/vbs-registration/
Our VBS program needs LOTS of help to run smoothly! If you are able to volunteer some or all of the time, please reach out to nkruvczuk@standrewslutheran.com or contact the church office to volunteer! Teens receive NJHS and NHS service hours and are welcome to bring friends to help!